Don't Neglect Gutters & Downspouts
Your Home Depends on Them
When you think about keeping your home free from leaks and flooding, gutters probably are not at the top of your mind. You probably make sure that the roof is in good shape before thinking about anything else. However, when the next heavy rainfall heads our way, will your gutters and downspouts be ready to handle the flood?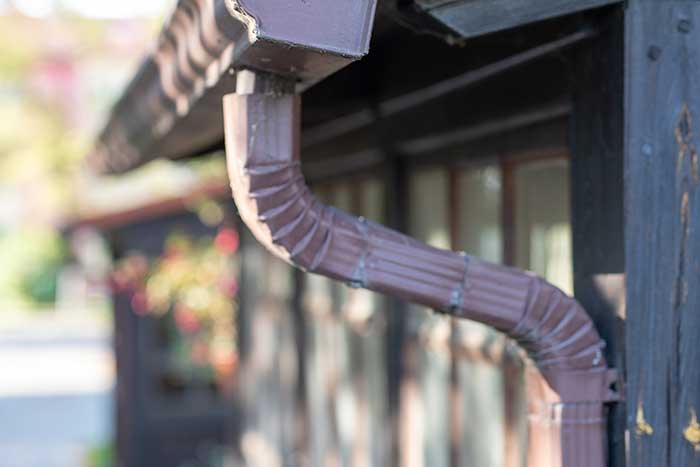 Roofwell's professionals dedicate themselves to making sure that customers have the strong, long-lasting gutters and downspouts they need to protect their homes from water intrusion. We install a variety of gutter types.
Dangers of Broken Gutters
Water that flows in the wrong directions can make its way behind walls, around doors and into basements, where it will promote the growth of mold and mildew and send unpleasant odors and unhealthy air through your home. It can even penetrate small cracks in concrete foundations and cause serious structural damage.
Rainfall that saturates the ground leads to soil erosion and dead plants. If your gutters have any of the following problems, it's time to consider a replacement from Roofwell, including:
Holes
Rust or corrosion
Dents from hail
Misshapen & bent
Loose end caps
Loose downspouts & elbows
Expert Installation & Premium Products
Many of our customers opt for affordable vinyl gutters, which can last for 10 to 20 years. Others choose rust-resistant aluminum gutters, which last for 20 to 30 years and can withstand north Georgia's high humidity levels. Galvanized steel gutters last for up to 30 years and are even more durable than their aluminum counterparts.
Contact Us Today for a Free Inspection
In addition to top-quality products, we will use expert installation techniques to make sure that your new gutters and downspouts can perform as they should. Don't spend the next rainstorm wondering whether your gutters are up to the task. Call Roofwell at (678) 503-5503 or fill out the online form to book a free consultation with one of our gutter experts.