Roof Restoration After Storms
We Help With Storm Damage Claims Too
A severe storm roared through your neighborhood last night. Now your roof has leaks, as well as bare patches where shingles used to be. You're not sure how bad it is. But judging by the way hail pounded your home and rain and high winds lashed your home, your roof took a lot of punishment.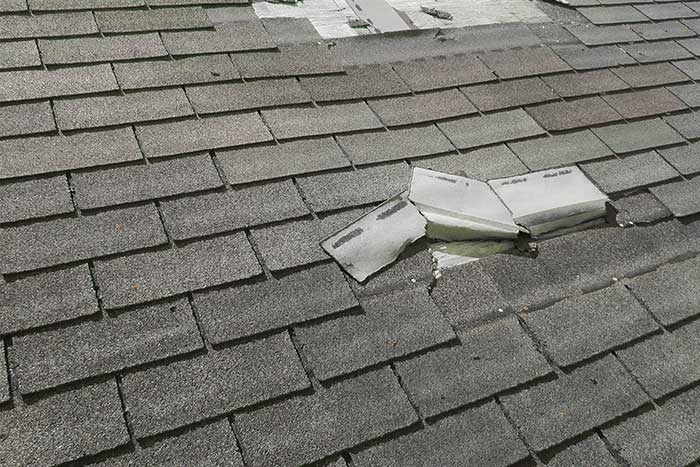 Give Roofwell a call and we will conduct a FREE inspection using a sophisticated drone. This eye-in-the-sky will give us a close-up and very accurate understanding of the condition of your roof. Call us for help today!
We Can Answer Your Roofing Questions
The questions you probably have after a storm include:
How bad is the damage?
How much will it cost me to fix it?
How quickly do I have to act?
Is the roof fixable or is the damage so serious that I need a replacement?
How do I file a storm damage claim?
These are all good questions, and ones that Roofwell can help answer. First, call us for a free inspection. Once we finish it, we can tell you whether you have leaks, as even small ones can cause water damage inside your home. We will look for cracked or bent shingles, as well as those that lost an unusual amount of protective granules. We will document missing flashing, holes in the underlayment or anything else that will affect your roof's ability to withstand the next storm.
We Meet With You Insurance Adjuster
Roofwell advocates for our homeowners during the insurance claims process. We work for our homeowners not the insurance companies.
After the claim has been filed our highly trained roof technicians meet the insurance adjusters on our homeowners' roofs to make sure all of the damage is shown to and documented by the adjuster.
Once the insurance company approves the claim Roofwell works directly from the insurance companies estimate. When the work is complete Roofwell submits all the necessary documentation to the insurance company. This ensures the insurance company pays for everything they should and the homeowner receives a quality roof that will perform correctly.
Contact Us Today for a Free Inspection
Starting the process right away will safeguard your house from the water stains, flooding and mold that roof damage can cause. Call Roofwell at (678) 503-5503 or fill out the online form to schedule an appointment.