Top-Quality Residential & Commercial Roofing
We Are Shingle & Metal Roofing Specialists
At Roofwell, we live up to our name every day, just as we have for four decades. Homeowners and business owners in metro Atlanta and throughout north Georgia know they can turn to us for roofing executed with exceptional craftsmanship and care. We can proudly point to thousands of completed residential and commercial roofing projects in our service area. Reach out to receive the benefits of our exceptional work on your own property.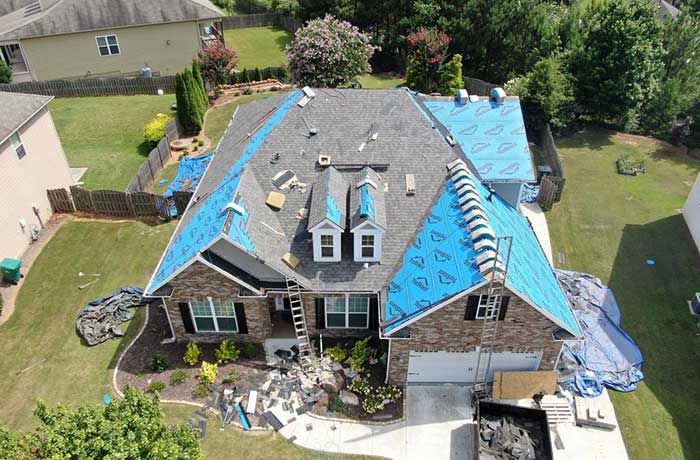 We Have a Formula for Success
Our continuing success relies on our comprehensive approach to roofing, which includes the following:
Conducting free roof inspections using high-tech drones. Our trained pros hold licensing from the FAA to fly drones, which are capable of spotting even small damage that can lead to big problems over time.
Certification to install premium brands including GAF, CertainTeed per manufacturer instructions, so that the installation goes perfectly.
Giving customers honest recommendations. If a roof has extensive damage or wear and tear, we will let you know that a replacement is our recommendation. If repair is a good option – saving you the cost of a new roof – we will tell you.
Assisting customers with the insurance claims process. Most damage from an act of nature receives coverage under property insurance policies. Successfully filing a claim depends on accurately documenting the damage. One of our team members will meet with the insurance claims adjuster to make sure all damage is part acknowledged and documented.
Contact Us Today for a Free Inspection
When you want superior residential or commercial roofing service in north Georgia, call Roofwell at (678) 503-5503 or fill out the online form to schedule an appointment.